White House Communications Director Anthony Scaramucci is threatening to fire everyone under him and force the resignation of White House Chief of Staff Reince Priebus after the newest round of White House leaks, potentially making good on the threat he made shortly after taking his position late last week.
Scaramucci started today's leaker hunt by calling CNN, and then this afternoon he called The New Yorker to get answers from "journalist" Ryan Lizza about the newest round of leaks.
According to Scaramucci, he requested for his employees give him a brief honeymoon period without any leaks, and they already failed to do this. Almost immediately after taking the position, private information about Scaramucci was leaked, including the details of a private dinner he shared with President Donald Trump, First Lady Melania Trump, Sean Hannity, and former Fox News executive Bill Shine.
Read More: Scaramucci Offers To Bring CNN Kleenex After Trump Wins 2020
Scaramucci called Lizza on the phone and demanded to know the identity of the leaker.
"Who leaked that to you?" he asked. I said I couldn't give him that information. He responded by threatening to fire the entire White House communications staff. "What I'm going to do is, I will eliminate everyone in the comms team and we'll start over," he said. I laughed, not sure if he really believed that such a threat would convince a journalist to reveal a source. He continued to press me and complain about the staff he's inherited in his new job. "I ask these guys not to leak anything and they can't help themselves," he said. "You're an American citizen, this is a major catastrophe for the American country. So I'm asking you as an American patriot to give me a sense of who leaked it."
Scaramucci made it clear to the journalist that this behavior would not be tolerated, and that by failing to disclose the identity of the leaker, Lizza was going to get every potential leaker fired from the White House:
"Is it an assistant to the President?" he asked. I again told him I couldn't say. "O.K., I'm going to fire every one of them, and then you haven't protected anybody, so the entire place will be fired over the next two weeks."

I asked him why it was so important for the dinner to be kept a secret. Surely, I said, it would become public at some point. "I've asked people not to leak things for a period of time and give me a honeymoon period," he said. "They won't do it." He was getting more and more worked up, and he eventually convinced himself that Priebus was my source.

"They'll all be fired by me," he said. "I fired one guy the other day. I have three to four people I'll fire tomorrow. I'll get to the person who leaked that to you. Reince Priebus—if you want to leak something—he'll be asked to resign very shortly." The issue, he said, was that he believed Priebus had been worried about the dinner because he hadn't been invited. "Reince is a fucking paranoid schizophrenic, a paranoiac," Scaramucci said. He channelled Priebus as he spoke: " 'Oh, Bill Shine is coming in. Let me leak the fucking thing and see if I can cock-block these people the way I cock-blocked Scaramucci for six months.' " (Priebus did not respond to a request for comment.)
Read More: Scaramucci Once Called Congressmen "Fucking Jackasses" With No Money
Early this morning Scaramucci called in to CNN and went a step further, saying "those are the types of leaks are so treasonous that 150 years ago people actually would have actually been hung [sic] for those types of leaks."
He also called the White House leakers "small potatoes," and claimed it was a direct quote from President Trump.
According to reports, President Trump knows exactly what Scaramucci, nicknamed "The Mooch" by his friends and family, is doing on TV and on the phone, and thinks it is great.
Source close to Bannon and Scaramucci, to me: "It's not a problem for [Mooch] because the president doesn't give a shit."

— Rosie Gray (@RosieGray) July 27, 2017
Read More: Scaramucci Forces CNN To Retract Hit Piece Connecting Him With Russia
It is widely believed in the alternative media that Priebus is one of the leakers and perhaps the one spearheading the leaks, as Infowars reported back in May.
Scaramucci has openly tagged Priebus on Twitter in a tweet complaining about leaks. He later deleted the tweet and went on to say it was meant to serve as "public notice" that the entire administration is serious about ending leaks.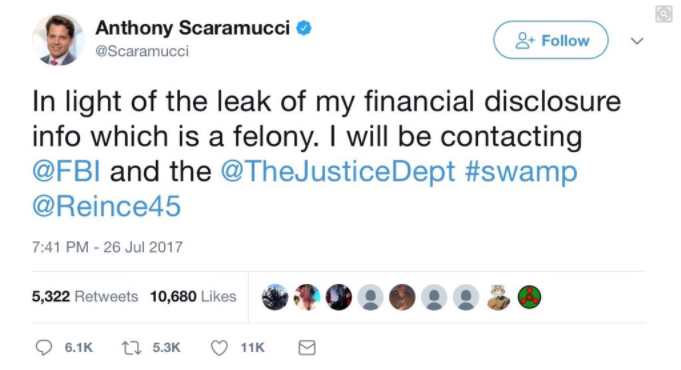 As for Scaramucci's take on the New Yorker interview? Toughen up, it's going to get a lot worse from here.
I sometimes use colorful language. I will refrain in this arena but not give up the passionate fight for @realDonaldTrump's agenda. #MAGA

— Anthony Scaramucci (@Scaramucci) July 27, 2017
Who can stop this absolute madman?
Comments
comments